Borger CLASSIC Rotary Lobe Series
The Classic Series has been well-proven for many years now and is the basic model of
Börger
Rotary Lobe pumps.
Material variety in the Classic product line
The customized rotary lobe pump is configured by selecting from the entire series and pump sizes, different shaft seals as well as the drive. The pump casing is in a standard gray cast iron. This can be coated to protect against abrasion or completely made of stainless steel to protect against chemicals.
Single-acting mechanical seals for almost any medium
Classic pumps are equipped with single-acting mechanical seals. The elastomers in the sealing units are available in different quality types. The Classic pumps are suitable for all unproblematic and non-hardening media. This is the proven product line for abrasive pumped media such as sludge and waste water. However, pure media, such as acid and alkali can also be easily pumped using the appropriate materials.
The design of the Classic Rotary Lobe Pump conforms to the Air Pollution Control Act and ATEX
According to the requirements of the Air Pollution Control Act, the Classic pump is technically sealed and safe. The seal can be visually monitored with the intermediate chamber. Monitoring can also be performed by sensors. If a leak occurs, the pumped medium enters the quench fluid of the intermediate chamber. An ATEX model is also available in the Classic pumps.
Low-maintenance design
Our high-performance, reliable and sturdy pumps are supported by guaranteed ease of maintenance using our system of Maintenance in Place (MIP), as well as low energy consumption and the subsequent increase in efficiency.
The AL, PL, CL, FL, EL and XL series convey pumped volumes of 1 – 1,500 m³/h (4.4 - 6,604 usgpm).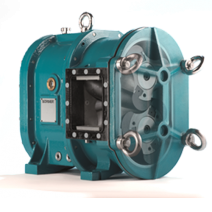 FEATURES AND BENEFITS
Reliable, powerful, robust
Customizable
Reversible
Compact, space saving design
Variety of materials and rotor styles
Capable of handling solids
Ease of maintenance thanks to MIP
Self-priming, suitable for keep operation
Low life-cycle costs
Energy-efficient
One-sided bearing
Maintenance-free mechanical seal