Borger PROTECT Rotary Lobe Series
The Protect product line is specially designed for critical pumped media.
Double-acting mechanical seal for critical pumped medium
The pump is even more robust and highly-stable with reinforced shafts and bearings. The Protect pumps are particularly suitable for critical pumped media (such as toxic or explosive pumped media) which must be not be allowed to leak under any circumstances, as well as highly abrasive media. Protect pumps are also suitable for pumping latex, which would form deposits between the seal faces if leaks occurred. It is essential that the pressure of the clean barrier fluid in the seal gap on the product and atmosphere side is kept higher than the pressure in the pump chamber to be sealed. In this way the double-acting mechanical seals reliably prevent the medium from leaking out of the pump chamber. The barrier fluid also prevents the pumped medium from getting between the seal faces.
The Protect Rotary Lobe Pump design conforms to the Air Pollution Control Act and ATEX
In this case: Getting the right pump size depends on the purpose of the application, the installation site and the special characteristics of the pumped medium. The customized rotary lobe pump is configured by selecting from the entire series, pump sizes, different shaft seals as well as the drive. As the pump chambers are the same for all three product lines, we can ensure high-availability for our rotors and spare parts. The Protect line pumps are durable and leak-proof, and therefore meet the highest requirements of the Air Pollution Control Act. The pumps can also be easily fitted with ATEX equipment.
Low-maintenance design
Our high-performance, reliable and robust pumps are supported by guaranteed ease of maintenance using our Maintenance in Place (MIP) system, as well as low energy consumption and the subsequent increase in efficiency.
The PL, CL, FL series convey pumped volumes of 5 – 370 m³/h (22 - 1,629 usgpm).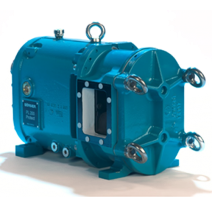 FEATURES AND BENEFITS
Reliable, powerful, robust
Customizable
Reversible
Compact, space saving design
Variety of materials and rotor styles
Capable of handling solids
Highest degree of operation safety for the mechanical seals
Ease of maintenance thanks to MIP
Self-priming, suitable for keep operation
Low life-cycle costs
Energy-efficient
One-sided bearing
Suitable for highly critical media (for example toxic or explosive media, latex, bonding agents)