Borger SELECT Rotary Lobe Series
The Börger Select product line features rotary lobe pumps based on the advantages of the Classic line.
Individually pressurized shaft seals
The Select line features individually pressurized shaft seals. This design is particularly suitable for fine-crystalline, toxic and sensitive media. Because the seals are pressurized, the media cannot pass between the seal faces and does not come into contact with https://www.cialissansordonnancefr24.com/ the atmosphere. Any leaks can be detected early, visually (Level Control) or by electronic means, and prevented. Since the seals are individually pressurized, each shaft can be checked separately to identify a defective seal.
The Select Rotary Lobe Pump design conforms to the Air Pollution Control Act and ATEX
Since the pump casings are the same for all three product lines, we can ensure high-availability for our rotors and spare parts. It is also possible to retrofit a model from the Classic line into a Select model in some sizes. The pumps from the Select line meet all the legal requirements for safe and reliable operation (for example, compliant with Air Pollution Control Act, SIL). ATEX equipment is also possible.
Low-maintenance design
Our high-performance, reliable and robust pumps are supported by guaranteed ease of maintenance using our system of Maintenance in Place (MIP) system, as well as low energy consumption and the subsequent increase in efficiency.
The PL, CL, FL series convey pumped volumes of 5 – 370 m³/h (22 - 1,629 usgpm).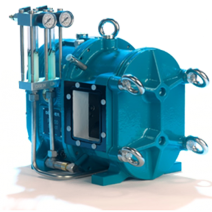 FEATURES AND BENEFITS
Reliable, powerful, robust
Customizable
Reversible
Compact, space saving design
Variety of materials and rotor styles
Capable of handling solids
for fine crystalline, toxic media
Ease of maintenance thanks to MIP
Self-priming, suitable for keep operation
Low life-cycle costs
Energy-efficient
One-sided bearing
Keep seal monitoring