Wright Flow Technologies Revolution Series
The Revolution is the first hybrid rotary lobe & circumferential piston pump with front loading seals. It is dimensionally interchangeable with Waukesha® for comparable models. This makes it very easy for the customers to upgrade their pumps.
The Revolution™ is the first true CIP (Clean in Place) Hybrid Circumferential Piston & Lobe Pump and delivers increased product yield, increased lifetime of components, reduced maintenance costs, with outstanding CIP cleanability and higher standards of hygiene.
FEATURES AND BENEFITS
EASE OF MAINTENANCE:
●   Fast, front loading seal changes while pump is still in-line
●   Easy access shimming for setting rotor clearance
PERFORMANCE:
●   Improved volumetric efficiency in low & high viscosity applications
●   Enhanced front cover design eliminates dead zones
CLEANABILITY:
●   Efficient CIP (clean-in-place) ability is standard for all Revolution pumps
●   Stainless steel bearing retainers & foot (Stainless bearing retainers & foot available as standard on models 150-1300)
CPP Porting Options

RLP Porting Options

●   Complete range of hygienic clamp, screw, flange & industrial screw connections

●   Tri-clamp, flanged, DIN, IMDA, NPT, BSP, etc.

●   Double O-ring w/ flush

●   Double mechanical w/ flush

●   Complete range of material options

●   Complete range of hygienic clamp, screw, flange & industrial screw connections

●   Tri-clamp, flanged, DIN, IMDA, NPT, BSP, etc.

●   Single O-ring (frame sizes 2-5)

●   Double O-ring w/ flush (frame sizes 2-5)

●   Double mechanical w/ flush

●   Complete range of material options

●   Powder-coated or painted standard (size dependent)

●   Stainless steel optional on frame sizes 2-4

●   Oil lubrication standard, grease optional

●   Powder-coated or painted standard (size dependent)

●   Stainless steel optional

 

●   316L stainless steel pump casing w/ interior finished to 3-A standards

●   Non-galling WFT 808® nickel alloy standard or 316L stainless steel rotors

●   Improved surface finishes & electropolishing optional

●   316L stainless steel pump casing w/ interior finished to 3-A standards

●   316L stainless steel rotors

●   Improved surface finishes & electropolishing optional

 

 

 
Revolution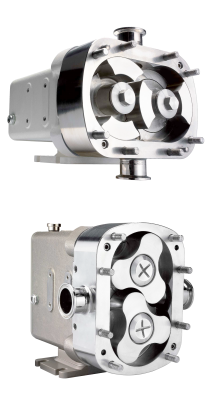 Max Capacity:
Max Pressure:
Max Viscosity:
to 440,000 cSt (2,000,000 SSU)
Max Temperature:
Certifications:
ISO 9001, 3-A SSI, EHEDG, CE, ATEX