Wright Flow Technologies TRA20 Series
Wright Flow Technologies TRA20 serie is a positive displacement circumferential piston pumping technology, designed for high hygiene applications. The TRA20 series offer an optional Clean-In-Place (C-I-P) design with internal porting to allow vigorous flushing through all internal chambers. TRA 20 series are dimensionally interchangeable with Waukesha® for comparable models. This makes it very easy for the customers to upgrade their pumps.
FEATURES AND BENEFITS
Time tested and proven circumferential piston design.
Exceptional engineering and manufacturing quality.
Parts are interchangeable with Waukesha® U2 series pump parts.
Wright Flow Technologies TRA®20 pumps are drop-in replacements for equivalent sized Waukesha® U2 pumps.
Wright Flow Technologies can remanufacture TRA®20 series or Waukesha® U2 series pumps up to three times.
TRA20 Circumferential Piston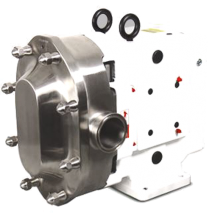 Capacity Range:

0.1 to 310 gpm (0.02 to 70.4 m3/hr)

Pressure Range:

Viscosity Range:

28 to 910,000 SSU (1 to 200,000 cSt);
Consult factory for applications greater than 910,000 SSU/200,000 cSt

Chocolate clearances available

Certifications: