Series 124 - Heavy Duty Pump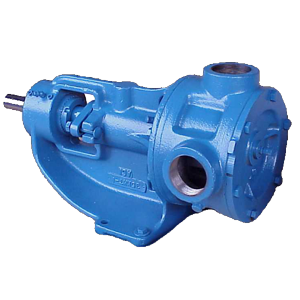 Features:
The rugged, yet simple, design assures long life and trouble free operation in normal‐duty installations and outstanding performance when handling liquids at greater pressures.
Designed to work equally well in both directions and possess excellent vacuum developing characteristics.
Provide a continuous and steady stream of liquid without foaming or churning.
Integral relief valve supplied as standard.
Suited for gear reduction, v‐belt and timing belt arrangements without additional shaft support.
Thresholds:
| Max. Capacity | Differential Pressure | Temperature Range | Max. Viscosity |
| --- | --- | --- | --- |
| 643 L/min (170 USGPM) | 1380 kPa (200 PSI) | 650°F (343°C) | 2,000,000 SSU (440,000 cSt) |
Specifications:
Size
Standard Port
Nominal Capacity At Max. Speed
Max.Speed
Max. Pressure
Inches
GPM
L/min
RPM
PSI
kPa
J
1.5
30
114
640
200
1379
K
2
63
238
640
200
1379
KK
2
84
318
640
200
1379
L
2
140
530
640
200
1379
LQ
3
140
530
640
200
1379
LL
3
138
522
520
200
1379
LM
3
170
643
520
200
1379