Series 480 - Ammonia Pump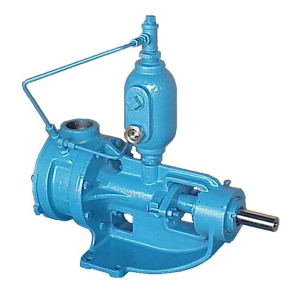 Features:
Designed to provide safe, efficient handling of refrigeration ammonia.
Supplied with a double mechanical seal which is pressurized by refrigeration oil stored in an oil reservoir located directly above the seal chamber.
Sealing with oil instead of ammonia promotes longer seal life and eliminates leakage of ammonia.
The "gear-within-a-gear" pumping principle provides a continuous, non-pulsating flow of liquid.
Thresholds:
| Max. Capacity | Differential Pressure |
| --- | --- |
| 227 L/min (60 USGPM) | 518 kPa (75 PSI) |
Specifications:
Size
Standard Port
Nominal Capacity At Max. Speed
Max.Speed
Max. Pressure
Inches
GPM
L/min
RPM
PSI
kPa
J
1.5
11
42
280
-30
-34
K
2
22
83
280
-30
-34
KK
2
30
114
280
-30
-34
L
2
50
189
280
-30
-34
LQ
2
50
189
280
-30
-34
LL
3
60
227
280
-30
-34